Just like how a Sunday is a much-needed break after a stressful week, Sunday brunches are a much-needed break from the boring breakfast all week. All you need is some delicious food to choose from, some drinks and music to unwind. Here is a list of the restaurants that serve delicious Sunday brunches where you can enjoy your Sunday at peace.
Mekong – Green Park
The Mekong starts by serving an appetizing spread of starters which include sushi, dim sum, salads, lamb and soups of your choice. If you think these are enough to make your stomach explode, wait until the main course which includes dishes of various cuisines. And don't forget to make some space for dessert. A glass of wine or your favorite drink can add on to the heavenly taste of the food. This is the perfect place to spend a lousy Sunday with your family or friends.
Price: 1299 INR for an adult and 799 INR for children.
The Eatery  – Four Points by Sheraton
A new theme, new décor and a new menu every Sunday. The Eatery serves different dishes every Sunday, never letting its guests down. The lavish spread of northern, Andhra, western and pan-Asian cuisines will make your Sunday worth remembering. They serve five starters, soups of your choice, various varieties of salads, eighteen to twenty varieties of main courses along with fourteen different desserts. And of course the mocktails, which are a part of the buffet. Can it get any better? Oh yes, it can. You can also take a swim in the pool if you'd like.
Note: Special Ramzan brunch on 25th June that includes authentically made Raan Biryani and Oozi Biryani. Don't miss out this one.
Price: 1100 INR and 1300 including house beverages
Aqua – The Park
Enjoy a relaxing Sunday brunch by the pool while you dig into the delectable spread of starters. Starting with two varieties of vegetarians and non-vegetarian starters, and a pizza of your choice, you can relax by the pool as long as you want or take a swim in it. After enjoying the pool side, head to the 'Vista' where you can indulge in some delicious food along with a glass of wine or a drink. Isn't this the perfect ideal place to hang out with your loved ones!
 Price: 1750 All inclusive INR for men, 1350 INR for women, 850 INR for Kids [8-14 yrs], below 8-complementary
The Square – Novotel-Varun Beach, Visakhapatnam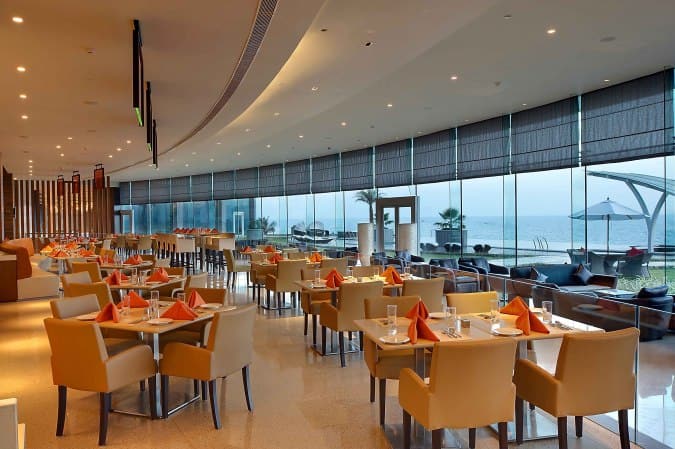 Nothing can beat the feeling you get when there is heavenly food spread before you with a beautiful view of the Bay of Bengal. Barbeque, stalls of burgers and sandwiches, where else could we possibly be on a Sunday morning? They serve different varieties of cuisines which you can savor. In addition to this, you could also enjoy some street foods like chat. If you're looking for a place to go to with your whole family, this one's for you.
Price: 1910/- per person
Rasa – Vivana
Hotel Vivana, in Siripuram Junction, serves 36 varieties of mouth-watering dishes in a Sunday brunch. You could choose among different varieties of vegetarian and non- vegetarian dishes. They start serving from 11 A.M in the morning to 4 P.M in the afternoon during which you could relish the delicious dishes. You need not look for a new place every Sunday as they keep changing their menu every week.
Price: 675 INR for non-vegetarian and 475 INR for vegetarian
G.A.D – Hotel Gateway, Taj
Gateway is a place which takes care of everybody's need starting from children to old aged people.  Different food is available to meet everybody's taste and a wide variety of continental food is made available for people who want to taste a different cuisine. Relax in the pool and head to lunch afterwards to experience a variety of delicacies. The package of food and a view of Bay of Bengal is hard to ignore where the food is exceptional. What makes it more fun is the live music and a magician who performs from table to table.
Price: 1100 INR for food and unlimited beer, 1500 INR for the same package with additional facility of the swimming pool.
Now that you know the places to go, plan a day with your loved ones and have an amazing Sunday.
Note : The prices mentioned in this article, might vary.