The date of 24 October, 2021 is drawing closer and there's only one thing on our minds. Who will win this time – India or Pakistan? This historic cricketing rivalry has seen its ups and downs but it still engages the people of both countries. In fact, at almost every international cricket tournament, India vs Pakistan is the most important game of all. And yes, the last few games between these two teams have been a little one-sided and lacklustre but the game itself is layered with context. 
This year, India and Pakistan will be facing each other in their respective opening games of ICC Men's T20 World Cup 2021. The hype around this game is particularly high, with both teams being viewed as the favourites for the title. And with only a few days to go, the friendly competition has begun.
Here are some ways in which an India vs Pakistan holds more meaning than any normal cricket match:
#1 The brotherhood between players
While the Spirit of Cricket is upheld in most matches, an India-Pakistan game is more than that. Indian players view their Pakistani counterparts as brothers and play them as such. In an India-Pakistan game, a heated moment or two might arise but it's all left on the field by the players. No doubt, this game will be fiercely contested and at the end of it all, we will get to see the two teams' players interacting with each other like it happens in IPL.
#2 The fans' war of words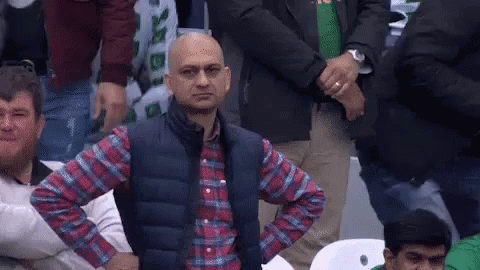 As the players usually compete harmoniously, it's the cricket fans from both countries who engage in a war of words. But all is settled on the cricket field. All eyes are glued to their TV screens, cheering their respective teams. There's never a dull moment in an India-Pakistan game because the fans provide their own entertainment. Fan reactions from this game have also led to some of the classic memes we use on a day-to-day basis. However, it's worth mentioning that the two teams also have some of the most loyal fans going around, from Sudhir Kumar Gautam to Abdul Jalil aka 'Chacha Cricket'.
#3 Kohli vs Azam
One of the biggest talking points of this year's India vs Pakistan game is the head-to-head contest between Virat Kohli and Babar Azam, the two teams' respective captains. While they have faced off against each other in the past, this will be the first time that the two players will both be at the peak of their form. It surely is a mouth-watering battle awaiting us. 
#4 Mauka Mauka ads
The most entertaining aspect of an India-Pakistan match, in recent years, have been the Mauka Mauka advertisements that precede them. These ads are extremely funny and accurately capture the passionate cricketing rivalry between these two nations. The biggest question is – will Pakistan finally succeed in breaking their World Cup duck against India?
#5 Historic context
There's always history in India-Pakistan games. Right from the first time these two sides met in a World Cup back in 1992 to the iconic twin games played in the 2007 T20 World Cup, these matches have been the very meaning of "entertainment" in the two countries. Now, they face off again, with all this history on their backs, the hopes of the fans on their shoulders and a highly valuable victory in their eyes. 
Let's all cheer for India as they begin their charge towards the T20 World Cup trophy. Mark your calendars – India vs Pakistan, 24 October 2021, 7:30 PM onwards.