Cute little Cherukiri Dolly Shivani will take away your heart before she impresses you with her aim. A storehouse of incredible talent, this munch kin has set two world record in one day. She shot 103 arrows at her target that was 10 meters away in a mere 11 minutes and 19 seconds using Indian arrows and a compound bow. After taking a rest of half-an-hour after this attempt, she fired 36 arrows from a distance of 20 meters in just 5 minutes and 8 seconds, scoring 290 out of 360 points. Doing so, she set not one but two records i.e the India Book of Records and the Asian Book of Records.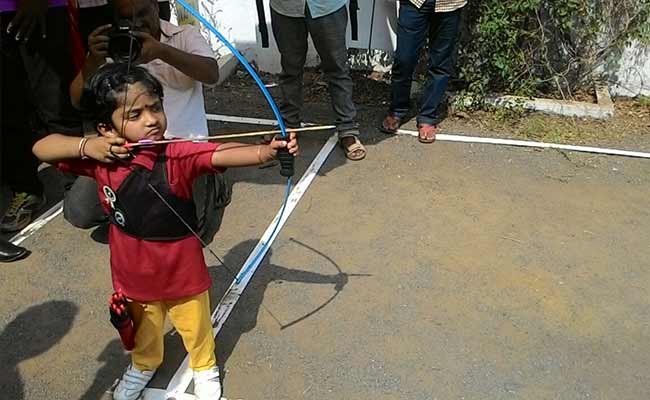 That is not all. In 2015, when she was just 3 years old, Dolly became the youngest Indian to score 200 points over 5 and 7-meter distances. Not one for short sightedness, she is aiming for the biggest record of all i.e Olympics 2024. Her training is currently being done at The Volga Archery Academy in Vijayawada.
Heroine of Telugu State – Cherukuri Dolly Shivani, is now the stuff for docu-movies. An inspiration for the young talent in India. The German channel ProSieben has already tied up to make a documentary on Dolly Shivani. A little girl who looks at a record the way other kids her age look at their favourite toy.
She is also set to feature in popular German TV programme Galileo which is based on wonder kids.
She has been congratulated by Vice-president Venkaiah Naidu via twitter.
Family and background – The little record breaker comes from a family of well aimed archers. Shivani's father runs an archery academy, while her brother was an international archer and coach. The government, both State and Center are enthusiastically motivating the little wonder and aiming for her success. Olympic 2024 by which time dolly will be 14 will be the record she is seeking to clinch.
Faith, hope and love to the little Telugu girl who is winning hearts all over the world.
Image credits : www.ndtv.com