Supermodel, Milind Soman and his mother Mrs.Usha Soman enchant the Concentrix, Visakhapatnam crowd with inspiration for good heath, happy banter and lots of selfies.
"If you want to take a picture with me then here are the rules, girls must come forward to do 10 push ups and for boys it is 20 push ups."
That was all it took for the young and enthusiastic crowd at Concentrix, Visakhapatnam to come forward. Gaiety, easy and happy banter and lots of fitness inspiration happened yesterday as the Supermodel cum Brand Ambassador for Pinkathon, Milind Soman came to town. Held at the Concentrix office in Visakhapatnam, the interaction was a part of raising awareness ahead of the Pinkathon event here – 'Vizag Goes Pink' which is scheduled to happen on January 7th, 2018. But how does he motivate?
"Don't run for anybody or because anybody told you so. Run for yourself, run for your health and run to prove that you can go ahead for something good. It is not easy but it is not impossible."
At 53, Milind Soman came into the event naturally and admits that initially running marathons did not come easy. Perseverance and dedication were his allies and so also his mother, Mrs.Usha Soman. A Professor of Biochemistry, at 78 she can give any young thing a run for her fitness money. Sportively, she came up to do push ups beside young employees of Concentrix. An inspiration for all, she has climbed mountains such as Mt.Killimanjaro and made it to Everest base camp too.
"For a woman Pinkathon is more than a Marathon. It is a platform to come forward and promote the movement for women", says Mrs.Usha Soman.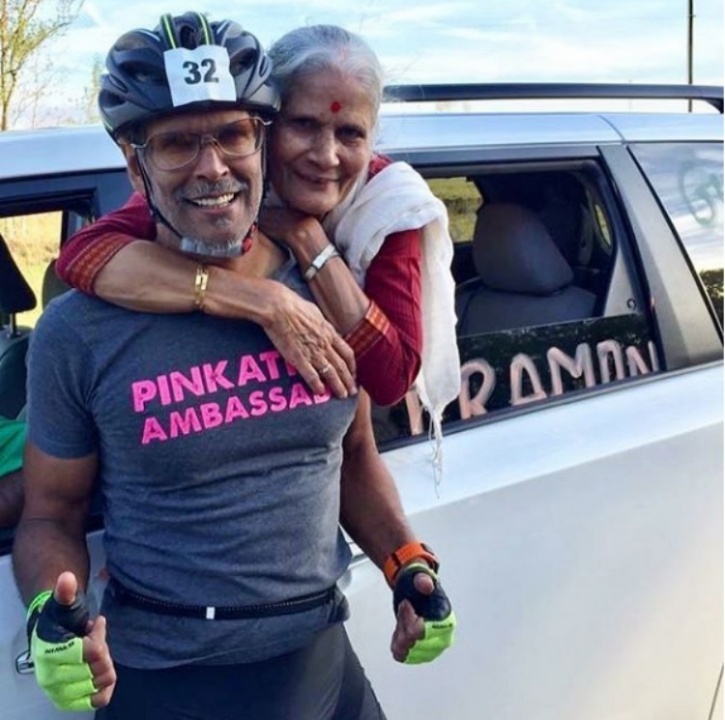 Between giggles and selfies, what grabbed everyone's attention was that the Mother and Son duo have put across the concept of health as a personal goal so effectively and genuinely. The city which is gearing up for the "Vizag Goes Pink" event has more under their sails to register and run for the cause. If you haven't you can still register. Follow the details below.
Event details
The event is being organised by Arena Events and United Sisters Foundation. Participants can enroll for the run which will be held in three categories — 3 km, 5 km and 10 km — at the Beach Road. Online registrations can be done at www.indiagoingpink.com. Offline registrations can be done at Tanishq showroom, VIP Road, and bibs can be collected at the same venue on Jan. 6 from 11 a.m. to 6 p.m.